WELCOME AND INTRODUCTION
Welcome to the Compass 6 Consortium of Basic Physician Training.
The Compass 6 Consortium offers basic physician trainees (BPTs) opportunities to study, learn and enjoy a multitude of areas within internal medicine. Each hospital in the network makes a vital contribution to the training and education of our basic physician trainees.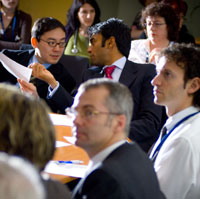 Within our consortium, we place a high value on the importance of training and education, and have developed an integrated programme:
Integrated across campuses
Integrated to complement clinical exposures
Integrated to allow individualised progression and development through the process of basic physician training.
This structured program is designed to supplement the experience gained through working as an essential part of a medical team.
The overall aim of the Compass 6 Consortium is to support trainee physicians in their progression through basic training and to positively influence their practice as future physicians practising internal medicine.
Congratulations to all our candidates for the recent RACP exam successes : Compass 6 BPTs continued their outstanding record of success in both written and clinical exams in 2009.